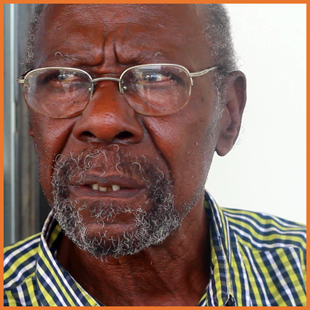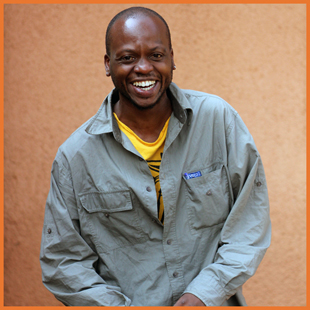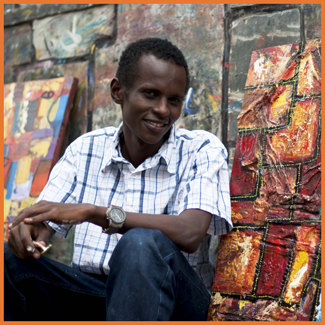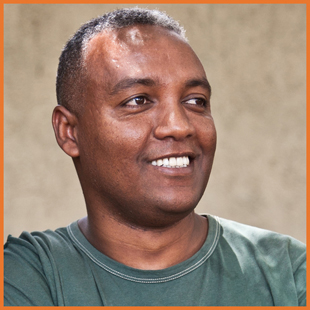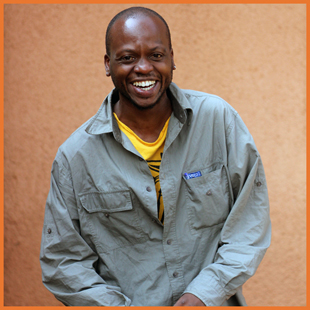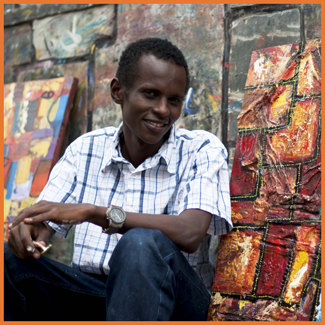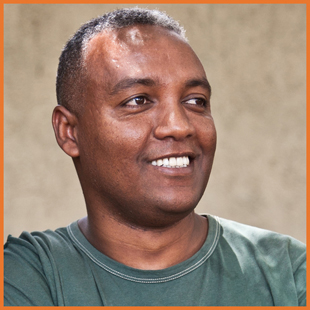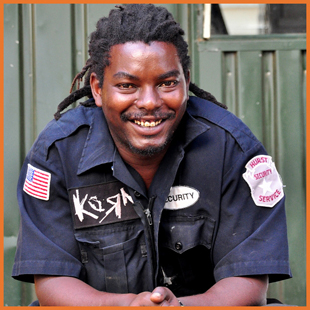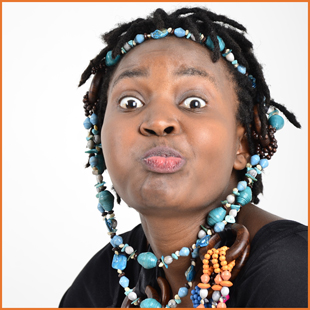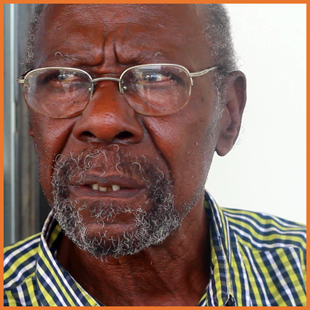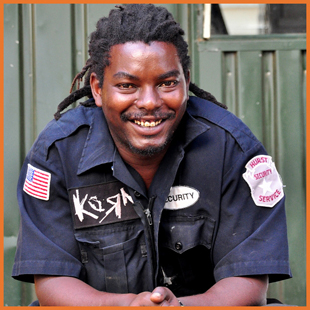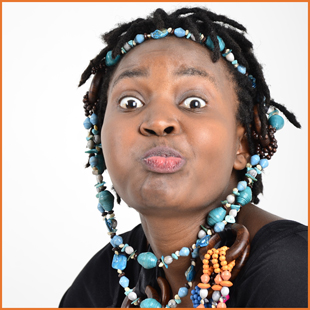 Vivian Mugume is a contemporary visual artist who specialises in painting.
His work centres upon the subjects of religion and family, both of which have played significant roles in his life. Mugume credits both forces as having impacted upon his creativity, which is reflected in his work.
Mugume's artistic life altered dramatically in 2006 when he was involved in a near-fatal motor accident, which led to the loss of his memory. He sees his recent works as efforts to place back together the fragments of his memory, to capture what life was like, so as to be able move forward, with his family, fiancé, and his three children. Vivian has exhibited in many solo exhibitions in Uganda, Kenya and Rwanda.
Tony Cyizanye is a Rwandese painter and founder of Yego Arts studio in Kigali, Rwanda.
Cyizanye has exhibited extensively both within Rwanda and Internationally. Key exhibitions include: Columbia University, New York; Charlie Dutton Gallery, London; Fespad, Jaama Festival, Rwanda, Novotel/Umubano Hotel and Ishyo Arts Center, Kigali.
"I was born in Burundi in 1985, into a family of musicians. My father and three of my uncles were at the centre of the music scene in Bujumbura, the capital city, and our house was their rehearsal room. Younger musicians came to our home to study. The sound of these lessons, and my father's improvisations on the guitar filled the house since as long as I can remember. One of my uncles was also a painter, and so the house doubled as a painting studio as well. I would sit beside him for hours, watching him work.
 I am driven by the desire to find a style that is utterly distinct from anything I have ever seen, something that expressed the worlds I came from in a way that felt completely my own."
Mulugeta Gebrekidan was born in 1970 in Addis Ababa, Ethiopia. He studied painting at Addis Ababa University's Alle School of Fine Arts and Design, and has participated in several local and international solo and group exhibitions. 
Some noted exhibitions include "Wax and Gold", a performance art piece in various public spaces in Addis Ababa; "Addis Ababa: the Enigma of the 'New' and Modern'" at the Modern Art Museum, Addis; Gebre Kristos Desta Center and "9th Dakart Biennale 2010", Dakar, Senegal.  Gebrekidan participated in an art residency program at the Virginia Creative Center for the Arts (VCCA), USA.
Gebrekidan works in multiple mediums, such as painting, performance, video, photography, and installation. His current projects document the changes taking place in Addis Ababa, reflecting on questions of identity, history and the culture of his city.
Gebrekidan aims to capture the internal transformation of the hearts and minds of the people who are affected by the rapid destruction and reconstruction of urban development. He creates a platform for visual, conceptual, and public dialogue on social issues through his site-specific works and public art interventions.  
Born 1960, Paul Katamiira has been a farmer since the age of twenty. He started making backcloth at the age of fourteen; the skill has been in his family for the past 150 years and was introduced by his great grandmother, Nakirijja. Katamiira explains: 'the art and trade is a legacy passed on through my family lineage; making backcloth was passed on to me by my father'.
Nakirijja taught the craft to her son, Bukenya's grandfather; Tanansi Nserikomawa, who passed the art of making onto Bukenya's father and uncles. With a home workshop and and over eighty ficus trees, whose barks regenerate and are harvested every year, the family represents one of the biggest backcloth producers in Masaka town.
Bukenya has taught his son the trade and has over thirty apprentices; and with a resurgence of backcloth for both cultural occasions and fashion houses in Uganda, his art seems to be growing.
For four year he has worked with Bukomansimbi Organic tree farmers association, under visual artist Fred Mutebi, to increase productivity and quality, and to educate and conserve the cultures that are linked to the fabric.
Dennis Muraguri, born in 1980 in Naivasha, Kenya graduated from Buru Buru Institute of Fine Arts [BIFA] with a diploma in painting and history of art.
Muraguri began his career as a painter, developing techniques and formal skills through high school and university.  Muraguri's work now experiments broadly with materials, techniques and ideas. 
Matatu Games [matatus are Kenyan public transport vehicles] is Muraguri's current and extensive project. Matatu Games stems from a fascination with the life that surrounds the matatus and how the matatu and all it's factors reflect upon the society of Nariobi.
Developing ideas through light boxes, video, installation and sculpture, Muraguri represents his fascination with the daily transport tool in a myriad of ways.  This is the beginning body of work in an exploration of how the everyday shapes and reflects our societies.
Vitshois Mwilambwe Bondo, born in 1981, lives and works as a curator and cultural operator, in Kinshasa, Democratic of Congo. He is an alumnus of the School of Fine Arts of Kinshasa, and he studied visual arts at the School of the Decorative Arts of Strasbourg and the Rijksakademie of Amsterdam from 2008 to 2010. In 2010, he created Kin Art Studio, a structure for contemporary visual arts.

Bondo defines his work as a combination of painting, sculpture, photography and installation. His focus is on the self and the body, which also represents a reflection of his own society and politics.

"My body of work is comprised of fractured identities and multiple geographies; contradictory locations and heterochronic calendars. Yet this multiplicity is amalgamated into a significant formal entity that can travel in style across borders and without a passport. My reflection on the body is at the same time a reflection on society and politics".
Born in Jinja, Uganda, Nabukenya Helen graduated with a degree in Fine Arts from Kyambogo University.  Nabukenya's background is in design and textiles, and her recent work has included using mixed media and acrylic paints to explore the boundaries of craft and art.
Upon graduating, Nabukenya co-founded the artist collective Artpunch Studio; a studio and exhibition space for emerging and established contemporary Ugandan artists.
Nabukenya's work explores a construction of mind sets, describing attitudes towards life through the use of mixed material and found objects.  Her recent work, 'Tuwaye' focused on using discarded textile materials, stitched together to create large abstract cloths which aim to communicate and interact directly with the audience. 'Tuwaye', which means 'Let's Talk', is a call for communities to address social, economic and political issues on one table. The process of creating 'Tuwaye' was collective and collaborative, and involved a group of craftswomen. Nabukenya's aim was to empower women by engaging them in productive activities through art.
Paul Ndunguru is a visual artist, performer, and educator in Tanzania with extensive experience in new media techniques. He has exhibited his work in Asia, Europe and Africa. Ndunguru also works for the Tanzania Books Project as an illustrator and creates comics, sculptures, puppets and paintings.  Ndunguru is a lead singer and a composer for Wahapahapa Band, Tanzania.
Ndunguru is currently experimenting with a wide range of new media techniques, combining traditional and contemporary methods of drawing.  This desire to explore new media comes from Ndunguru's role as the director of Alama Art and Media Production Ltd. Ndunguru also creates storyboards for TV as well as promotional material for radio and print.
Ndunguru is a member of Nafasi Art Space, an artist run space for visual art in Dar es Salaam. Ndunguru is the Nafasi board member representative for the artists.
Born in 1936, Francis Nnaggenda is a painter and sculptor. He received his artistic education in Germany and France, and balances externally acquired and indigenous sensibilities.
Nnaggenda is a former head of the Department of Sculpture at the School of Fine Art, Makerere University. He also attended Freibourg University in Switzerland and Bayerische Akademie der Schonen Kunste in Germany.
Nnaggenda briefly returned to Uganda in 1969, but left for Kenya where he taught in Nairobi University. Settling back in Kampala Uganda, he is recognised as one of Uganda's leading artists, whose expressionistic work, especially in sculpture, has drawn considerable acclaim.

His sculpture titled "War Victim" can be found in the atrium of Makerere's main library, whilst his monument of the King of Buganda is located on the outskirts of Bulange. Further works can be seen at Kennedy Centre Auditorium and Zurich Museum of Art. Nnaggenda has been awarded the Meritus Certificate by "Who's Who in the World" for his services in the field of art.

Ten artists from Kampala, Addis Ababa, Dar es Salaam, Kigali, Kinshasa and Nairobi will create new commissions exploring, questioning and proposing narratives around the Unmapped.  The exhibition will take place at Kampala Railway Station, a historically layered building located in the heart of the city centre.










Helen Zeru is a visual artist based in Addis Ababa, Ethiopia.  Her practice often begins as a healing process, dealing with personal incidents in the artist's life. Starting as a reflection of these private themes the work often ends up entering a broader social context, touching relevant and pressing issues in the society in which Zeru lives.  The current and rapid urban gentrification process occurring in Addis Ababa and how it affects the lives of inhabitants from a broad spectrum of society within the city is one such issue Zeru is currently exploring.
Zeru began her practice exploring the medium of woodcut printing.  She later moved into mixed media techniques and currently executes work through photography, installation, video art and performance.
 
Zeru have exhibited extensively in Ethiopia and internationally. Exhibitions include: Public Art Screening, Kampala; Yugoslav History Museum, Belgrade; The Studios Das Weisse Haus, Vienna; EnBw Show Room, Berlin; 1stTibilis Triennial, Georgia; Independent Curators International (ICI), New York; GIZ, Addis Ababa and Modern Art Museum Addis Ababa.